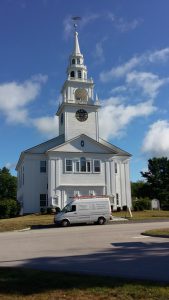 This was a full restoration project which included large sanctuary windows, hidden windows and even windows in the steeple above the bell.
Project included complete restoration, weatherstripping and additional hardware as required. Allied storm windows were installed on the exterior of the building, replacing a mix of smaller storm windows and panels. The large sanctuary storm windows had to be flown in 2 sections.
This project, which included work throughout the building, was recognized by the New Hampshire Preservation Alliance.